All-electric Cessna took its first flight as the largest zero-emission aircraft in the world
The latest milestone for aviation: the largest all-electric plane conquered the skies. A Cessna Grand Caravan was modified and turned into the world's largest electric-powered aircraft, bringing hope to a greener future of air travel. The Cessna is a utility aircraft with a wingspan of 16 meters.
The feat was achieved through the joint efforts of AeroTEC and MagniX. Originally a 14-seater turboprop aircraft, the Cessna 208B Grand Caravan was fitted with a 750-horsepower (540kW) magni500 propulsion system that powered it through its first flight.
It was "flawless," according to MagniX chief Roei Ganzarski. The "eCaravan" as they call it, flew for 100 miles in 30 minutes from AeroTEC's test facility in Moses Lake and around Washington state's Grand County International Airport.
However, there were compromises. In order to power the Cessna electric aircraft, they need to allot massive amounts of space and weight for the batteries. The energy per unit mass of batteries we have today is still not comparable to that of aviation fuel we typically use. This led to limited space available for passengers in the eCaravan. Instead of 14 people, the electric passenger plane can now only carry up to 4 or 5 persons in flight. AeroTEC and MagniX hope to carry up to 9 people for 100 miles once the technology has improved, but this will not happen until the aircraft's certification in 2021.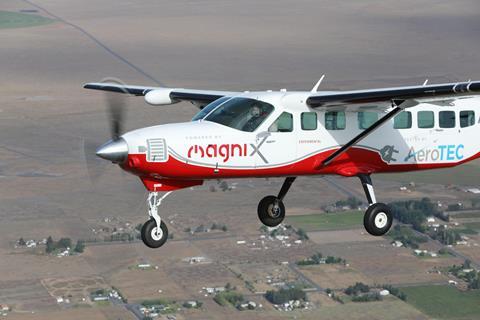 The current capabilities of the all-electric Cessna 208B Grand Caravan may seem minuscule against its fuel-powered siblings, but the companies have high hopes for it. They are eyeing to revive short-hop flights that have been deemed impractical by major airlines. They are claiming that these 30-minute flights will be much more feasible, costing only about $6 of electricity per trip. It may take a while before we experience long-haul flights with all-electric aircraft, but this is still a great start! City-to-city travels have never been as fast and as eco-friendly.
The company MagniX has a lot of plans for its latest electric motor. It has gathered a good amount of deals with key players in the aviation industry. This includes providing the Magni500 propulsion system to the new planes of Eviation, an Israeli startup company, and the largest independent regional airline of the US in Cape Air.
MagniX also had an agreement to provide more electric engines to Harbour Air in the future. And aside from converting existing fuel-powered aircraft into all-electric ones, MagniX has also been teaming up with different manufacturers to develop future planes that will adopt its technology.
The first flight of the Cessna eCaravan was dedicated as a proof of concept. They have proven that an aircraft of that size is capable of flying through battery power. No effort has been made to accommodate passengers. Now, the focus of the MagniX is its certification and further improving their design to increase its efficiency and allow passengers to actually fly on it.
The electric plane technology is only at its dawn. There are still various challenges that it will have to overcome before it becomes fully-developed and widely used. Lack of charging stations, limited range, and battery energy density are only some of them. But we believe that this is the way. Electric-powered planes have zero emissions and much lower operating costs.
In the next several years, we may have electric commercial aircraft that can offer cheap flying services for people and packages that were previously not possible. They are the future of air travel. The future is electric.
(Sources: Business Insider and Engadget)